BTC tanks 30% as the crypto fear and greed index shows "Extreme Fear", measuring the current market sentiment at the lowest point of 2021. The index continued falling alongside BTC prices and hit extreme fear levels which haven't been seen since April 2020 during the financial market crash as we reported in our bitcoin latest news today.
The metric continued reflecting the bearish sentiment which seems to have overtaken the markets and as BTC extended the losses, and hit $31,600, the indicator collapsed to a record low of 11. The news of Tesla rejecting BTC payments earlier turned the markets for the worse and led to a massive broad market crash.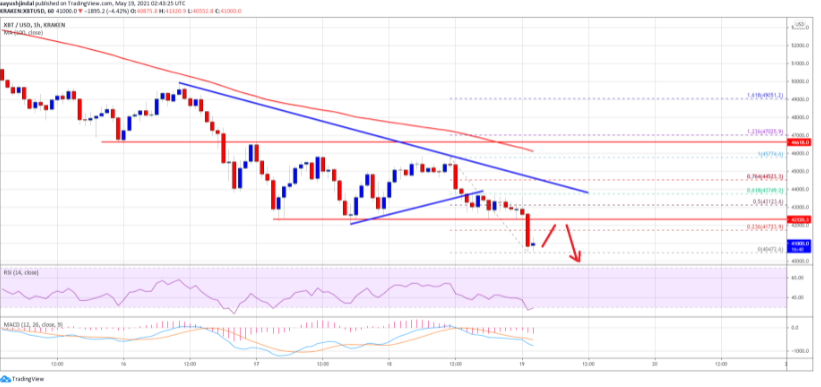 SourceBTCUSD on TradingView.com
At the time of writing, BTC tanks 30% in one week with Ethereum, Binance Coin, and Dogecoin getting down by 41.83%, 50.32%, and 26.50% respectively. Earlier this month, the metric signaled that the market is heavily overheated with a rating of 73 or Greed and up to that time, BTC was up by more than 200% YTD. The short-term volatility climbed to the highest level since February and according to the BTC volatility index, the monthly volatility increased to 4.64%. Unfortunately, the volatility is here to stay. According to Deribit Metrics, the volatility for the options market surged to 131% which is an increase of 67% from a week before.
The contract with the highest notional value and volume is May 28 50,000 puts which are already in the money. With more than $1.6 billion worth of contracts expiring at the end of this month, there's no doubt that BTC will go on with choppy price action.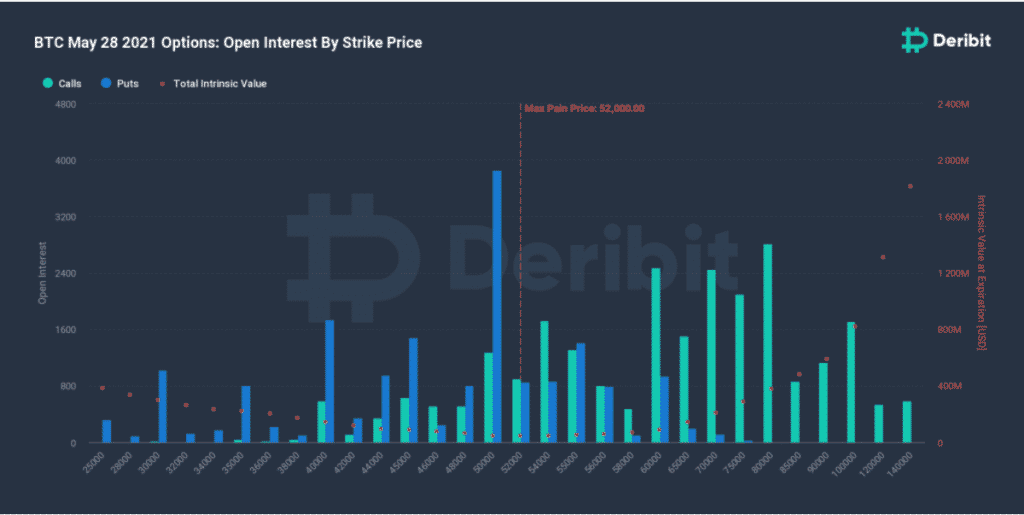 Data by Deribit
As reported earlier, BTC broke off key support and failed to stay above the key $42,150 support against the US dollar and the coin declined, remaining at risk of a sharper decline below the $40K. There's a new major bearish trend line forming with the resistance near the $44,000 on the hourly charts of the pair and it is likely to continue lower below the $40,000 support levels in the near term. The price started a decent recovery from the $42,000 and the $42,150 support levels but the bulls failed to push the price above the $46,000 resistance zone.
As a result, the price started a fresh decline below the $44,000 level with the bears being able to push the price below the main $42,000 support level and it is now trading well below the $45K and the 100 hourly simple moving average. Bitcoin tested the $40,500 support zone and shows a lot of bearish signs with the initial resistance nearing the $41,800 zone and nearing the 23.6% fib retracement level from the decline of the $45,774 high to $40,472 low.
Source: BTC Tanks 30% As "Extreme Fear" Enters The Crypto Markets