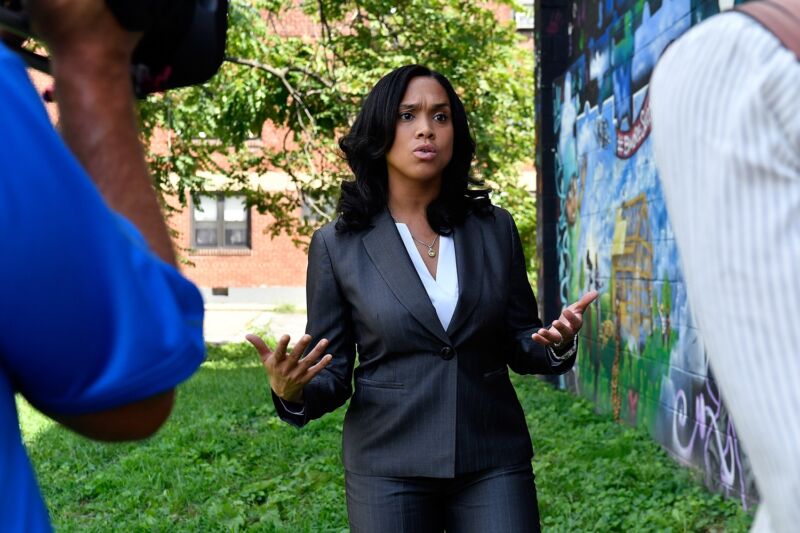 Baltimore's chief prosecutor has asked the Federal Communications Commission to stop a local Fox News affiliate's negative coverage about her, claiming that the "tone of the coverage" violates FCC rules.
The office of Marilyn Mosby, the Maryland State's Attorney (SA) for Baltimore, filed the formal complaint last week against "FCC-licensed station WBFF, a Baltimore City-based Fox News-affiliated network." The complaint asked acting FCC Chairwoman Jessica Rosenworcel and the rest of the commission "to enlist the full investigative and enforcement powers granted to you by the federal government to take action against the WBFF as soon as possible." Mosby is a Democrat, and WBFF is part of the conservative Sinclair Broadcast Group.
The closest the complaint comes to alleging a factual error is in reference to a guest on one segment who said that Mosby is "a follower of the George Soros playbook, who's… bought and paid for these elected DAs." The complaint said that "State's Attorney Mosby has never received a penny from George Soros or any of his political groups." However, that segment was made by one of Sinclair's national shows that runs on many stations and was not produced by WBFF.
Read 15 remaining paragraphs | Comments
Source: Baltimore chief prosecutor asks FCC to stop negative news coverage about her